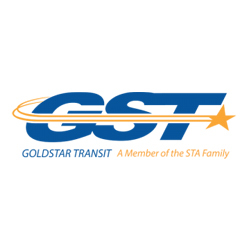 School Bus Driver
Round Rock, TX
GoldStar Transit is now hiring School Bus Drivers in Round Rock Texas.

This is a great opportunity for stay-at-home parents, retirees, and anybody looking for extra income! No experience is necessary.

Paid training is available for those who want to become professional school bus drivers, including preparation for your written CDL exam, road evaluations, and classroom and additional behind-the-wheel instruction.

With our number one focus being on safety, Student Transportation offers a professional work environment, flexible schedules, competitive wages, group medical plans and outstanding opportunities for growth and promotion.

What We Offer:
• Competitive salary.
• Paid Training.
• Obtain your CDL in as little as 6 weeks!
• Comprehensive training program.
• Great company culture.
• Ability to give back to the community.
• Working for an industry leader in a organization with over 12,000 employees.

* We will pay based on experience.


About us:
GoldStar Transit is part Student Transportation Inc. With a team comprised of drivers, dispatchers, mechanics, managers, technology professionals, and others who are committed to our longstanding culture of safety and the well-being of the students who depend on us each day. To many they are everyday heroes and serve as an inspiration to us all.

Student Transportation Inc. is North America's safest independent provider of school bus transportation services, with an industry-leading safety rating and the youngest fleet in the business. As a Bus Driver for Student Transportation Inc. you will be under the supervision of a manager, dispatcher or trainer. In this role you will be operating a school bus or van over designated bus routes and transporting school aged individuals. In addition, a School Bus driver may transport various clients for charter trips.

Student Transportation Inc. i operating more than 13,000 vehicles in over 360 school districts. Student Transportation Inc. is a growing family of local companies committed to providing the highest level of safe, reliable and cost-effective student transportation.

Our motto at GoldStar Transit is to make a positive difference in the lives of the students we transport. Starting each day with a smile and a familiar face is an important step in the education process, and we train our drivers to be compassionate and confident in the management of the students on their bus. Drivers receive sensitivity training for working with Special Needs students, bullying prevention and awareness methods, and First-Aid techniques. We remain at the forefront of the industry with our safety and training programs, which often exceed Federal and State regulations and can be tailored to fit your district's needs.

Each driver employed by GoldStar Transit will be required to attend the annual mandatory driver training administered on a state level. Additionally, all drivers are required to complete annual training using the NAPT-recommended program, The Driver Training Course, comprised of 15 instructional DVDs with accompanying study guides and posters. We require all newly hired drivers to complete a minimum 35 hours of training while experienced drivers will be required to complete a minimum of 12 hours.

We are an Equal Opportunity Employer.
• Must be over the age of 21.
• Must be able to pass a DOT physical examination.
• Must be committed to training and processes.
• Must have a minimum of 5 years verifiable driving history.
No more than 2 moving violations and 1 preventable accident in the past 3 years.
• Must be able to successfully pass a background check.
• Must be able to adhere to all company safety standards and operating procedures.
• Must have a passion for working with children.
14955